Business Management
OVID HMS comes very handy for the Executive Staff or Management of the Hospitals who have multiple locations. If you are an executive or the owner of the Hospital, you can manage the business sitting anywhere in the world using all the data presented to you either in the form of business reports or the actual raw data. It supports even multiple geographies across countries and continents. Every user and doctor in the OVID HMS can be managed from the system using any computing device - mobile , laptop , PC , tablet , iPad. Management and reviews become as easy as checking your email on your phone. It helps you check your revenue , profitability by presenting data with the help of the Data Analytics module in OVID HMS. OVID HMS helps you keep track of your bottom line and gives you hints to improve your profitability.
Improve your bottom line with the business intelligence provided by OVID HMS
Review Practitioner's Performance
Review Branch or Location's performance
Check various parameters and trends related to your business
Most importantly do it from anywhere , anytime using even a simple Mobile
Small clinics
Though OVID HMS is huge , we made sure that it works well for small Dental Clinics and Hospitals with single branch and couple of doctors or dentists. The software is as easy as Gmail on your phone. So, you don't have to worry about training yourself or your staff. We understand that OVID HMS is there only to help you manage your practice and also you expect it not to keep you busy all the time.
Don't worry about hiring a specialist to manage your dental software as OVID HMS is simple and straightforward.
Plan your business and life easily with all the inputs and clues you get from Business Intelligence module of OVID HMS
Make your mark in the ever increasingly competitive world of healthcare through the branding and communication tools of OVID HMS
Manage your consultant or visiting doctors and dentists easily
Multiple Specialities
It is designed for supporting Hospitals with multiple specialities and multiple branches. It supports multiple specialities ranging from Dental , ENT , Gynaecology etc. The OVID HMS is a large platform but for a subscriber of OVID HMS, the Hospital doctor or staff , data and options will be shown which will be specific to their specialities and their patients only. The system has been built to scale and will work for our future generations too.
OVID HMS supports all the specialities and below is list of a few:
General Medicine
Allergy & immunology
Anesthesiology
Dermatology
Diagnostic radiology
Medical genetics
Neurology
Nuclear medicine
Family Medicine
Obstetrics and gynecology
Ophthalmology
Pathology
Pediatrics
Physical medicine & rehabilitation
Preventive medicine
Psychiatry
Radiation oncology
Surgery
Urology
Support-Multiple-Locations
Hospital owners can manage multiple locations from HMS sitting remotely from anywhere.
Easy Administration of users and their roles, permissions from a single dashboard
Business performance reports , trends and comparisons of various branches
Designed for large hospitals with multiple branches in different Geo-Graphical Locations
Offers a unique and single platform to manage all businesses with few clicks
Patient Engagement and Communications
For any successful medical or dental practice , patients play a crucial role as they are the source of revenue. And in this 5G world, the patients also expect a lot from the hospitals in terms of communication and case sheet. And because we understand all this better than any one else, we have made sure OVID HMS helps the doctors and the dentists to stay in touch and keep the patient informed. As part of the communications module, SMS and Email alerts are sent for each business process like appointment booking , rescheduling , reminders for upcoming appointments. And the hospital or the doctors can send bulk SMS or Emails to the patients wishing them on their birthdays and festivals. Also, Hospitals can advertise through SMS , Emails to the patients about their new services or price offers.
Automatic and instant SMS / Email alerts for different processes
SMS / Email alerts to the patient for Appointment booking, rescheduling, No-Show
SMS / Email alerts to the patient for Today's Appointment reminders
Bulk SMS to all patients with own free text for different offers , festivals etc
Birthday wishes to patients
SMS / Email alerts to the Labs upon Lab Order Creation in OVID HMS
SMS / Email alerts to the Labs upon non-delivery of Lab Order by Expected Date
SMS / Email alerts to the Supplies Dealer upon Order Creation in OVID HMS
SMS / Email reminder to the Supplies Dealer upon non-delivery of Order by Expected Date
Bills , Payments & Invoices
With OVID HMS, generating bills , invoices get generated automatically for the patient treatments. The user doesn't have to fill any form. Also, the payments can be made against the bills and partial payments , discounts are also provided as part of the billing module of OVID HMS. And, the invoice , payment details can be printed or save on a file with the complete branding of the Hospital. In total, OVID HMS offers a complete dental and hospital billing solution
One Click Invoice Generation for Patients
One Click Payment with Minimum Data Entry
Accounts
With this dental software and hospital management software , OVID HMS, you can manage all the revenues, expenses , bills , vendors and payments maded to vendors and payments received by your hospital easily. OVID HMS gives you expense reports , expenses split by category and vendor for your hospital or clinic. These will be handy in reviewing expenses and making informed decisions about your hospital or clinic.
Record Expenses
Review expenses using visual charts
Track vendor payments
Get inputs on top expenses category and vendor
One Click Prescription
You may feel that it takes time to write all the details for a drug prescription in Software. But, we have made it easy for you in OVID HMS. You can manage your own list of drugs and maintain your own list of frequent prescriptions. And in appointment handling you can choose from a list of your routine prescriptions and click on it and DONE. And, if you have to write a rare prescription you can always enter all the details manually to write the prescription. And when the prescription is printed OVID HMS gives a detailed notes for each prescription which will increase the satisfaction levels of your patients.
Add your Own Drugs
Choose from existing
Manage favourite drugs
Manage favourite Rx
Digital Rx
Clear Rx with detailed instructions and details for each drug
Appointment Handling
OVID HMS helps you to capture all the data pertaining to an appointment easily while all the patient profile and data from previous appointments are readily available on a single screen. OVID HMS offers all the steps of an out patient appointment in a single screen from Simple notes, Chief complaints , diagnosis and treatment , investigations , lab orders to prescriptions , billing and payments in a simple screen and presented in a user friendly manner to the doctor.
Customized Printing with your Own Logo , Doctor Info & Other Business Details
Optional Header (If you want to use your own letter heads)
All steps in an appointment can be printed & can be individually selected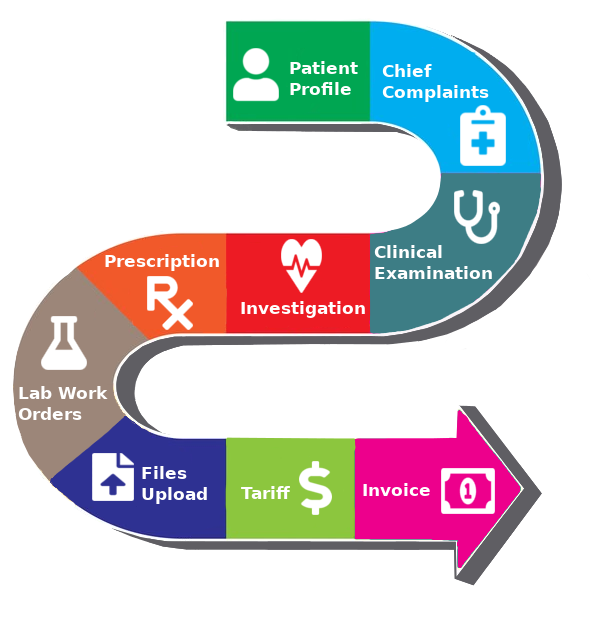 Prints & Downloads
OVID HMS gives you the freedom to export all the data you see and search in OVID HMS. And the data can be exported in CSV , Excel , PDF formats. Also, print option is available for all data and forms in OVID HMS. So, this allows you to extract list of patients , appointments , data from various reports etc.
Customized Printing with your Own Logo , Doctor Info & Other Business Details
Optional Header (If you want to use your own letter heads)
All steps in an appointment can be printed & can be individually selected
Cyber Security
With the increased threats from the pirates of the Cyberworld, we have taken all measures for safeguarding your data. In this regards, we have implemented several measures such as data encryption and multiple firewalls to thwart the criminals and to avoid any data tampering or theft. And since it is a Cloud based platform , you don't have to worry about cybersecurity measures on your end in the hospitals or clinics which would be a huge thing in terms of expertise and the expense.
Top of the line Perimeter Firewall
Intrusion detection system
Internal Firewall
Ecnrypted Data Transfer
Data at rest encryption
Automated Data Backups
Automated Archivals
Role Based Access Control
Preconfigured roles with separate privileges for each
Unlimited-Storage
OVID HMS provides you with unlimited storage as we know that businesses grow overtime and so does the data. We don't put limits or restrictions on the amount of data you can store. You can store documents , pictures , dental images and other medical images related to the patients and appointments. And the best part is that all the data is easily accessible in OVID HMS.
Complete Data Management System for your Business
No need of writing Patient Specific Data on Paper or Excel
Easy information Search / Print
Export any or all of your data any time in pdf or excel format
Offers Unlimited-Storage for documents , files & photos
Works with WebCam or Camera on your Tablet / Phone to upload pictures of Patients / Other documents
Integration
OVID HMS is not just a simple patient data management and appointment handling system. But it integrates the third parties like Labs , Supplies dealers through this platform so that the Hospitals and Practice Owners are at peace and can perform all tasks throug the software instead of running over phones or email for separate things. Even the Accounting part is done in OVID HMS so you don't have to maintain a separate software for that.
Lab Work Orders can be created and tracked until payments & invoices
Make easy orders for medical equipment / supplies without making a phone call or waiting for a dealer
Data Analytics
OVID HMS has all the data pertaining to the Hospital or the Practice. So, over a period of time you can start getting useful insights into various parameters and improve the bottom line and clinical efficiency. You can also review the performance and workload of your various doctors or dentists.
Offers various reports to manage your business
Patients
Labs
Supplies
Trends
Procedure wise performance reports of your doctors
Access 24 x 7 from Anywhere
As a doctor or a dentist , one can plan their work week or a working day well in advance while they are still home or on a vacation. Even the other Users , especially the business managers can remotely access the OVID HMS through the Mobile App or using the browser itself.
Designed for using all across the Globe
Currency based on your Geo-Location
No Hardware Purchase Required
To use OVID HMS you don't have to invest any money on sophisticated machines. Just your Laptop or a desktop or a 10 inches Tablet will do. You only have to pay for the annual license. It is good to have a A4 Printer to handout the case sheets to the patients in a standard format easily from OVID HMS. And these prints make sure that your brand is carried along and also the patient feels much more comfortable when the Hospital or the Clinic shares all his case data and prescriptions, bills neatly.
Works on All Laptops/Mac Books/Desktop/Tabs
Works with any A4 Printer
Affordable Pricing & Easy Payments
HMS has all the features offered by competitions in packages
All features are included and no payments for any future additions to this solution
We Partner with ' PayPal ' which is a trusted Payment Provider World-Wide
For Indian Clients We accept Payments through SBI also
Superior Latest Technologies
We at Ovid Technologies Private Limited have a strong technical team with decades of experience into building softwares. And we have used our experience to build OVID HMS as a software platform which will stay relevant forever. We have made sure that all performance measures have been taken to give a rich and fast performing UI for the Web Application as well as the Mobile App.
OVID HMS is designed on latest technologies for better user experience ,case of use & we promise better performance than any other competitor